Many people have responded to the Air Space Change Consultation with despair at the thought of Independent Parallel Approaches. The extra noise and disturbance is likely to be excruciating and completely contrary to the Government's stated policy of "limiting and, where possible, reducing the number of people in the UK significantly affected by adverse impacts from aircraft noise" [Air Navigation Guidance 2017].
However, there may be a serious safety issue were Independent Parallel Approaches ever to be introduced
So what is a "Go Around" and what is an "Independent Parallel Approach"?
An Independent Parallel Approach ("IPA") is a design of aircraft approach path into Heathrow and a method of Heathrow cramming a further 25,000 flights per year onto the existing two runways – see our article by clicking HERE. Heathrow's consultation document for the airspace change entitled "Making better use of our existing runways", which deals with IPAs, can be seen HERE
A "Go Around" is an aborted landing whereby the incoming plane veers off shortly before touching down to go round to the back of the landing queue to approach the airport again. It will do this for a number of reasons but mostly because it is no longer safe to land. The aircraft may be too wide of the approach, going too fast or the runway is simply blocked by another plane. Go Arounds appear to be surprisingly common. The plane has to exit the queue to the outside in order to avoid going across the path of the approaching aircraft on the other path. Thus, an approaching plane on the south runway will exit to the south to get out of the way and not across the path of an approaching plane on the north runway (if the two runways are being used in mixed mode).
There were two Go Arounds on the 11th August 2019 and the start of one is illustrated below. You can see that it has turned sharp left to abort its planned landing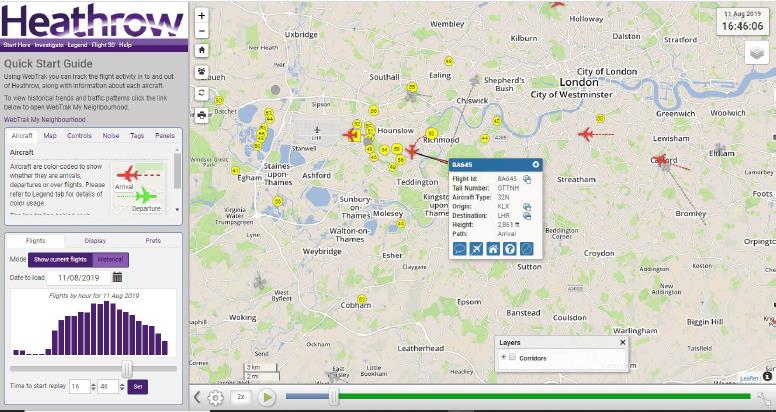 The Go Around starts with the aircraft at a low altitude in preparation for the landing but as soon as the change of direction has been made the plane has to climb sharply to be able to maintain altitude so that it can fly around and get to the back of the queue. In this example the plane was at 2,400′ but after its left turn, had climbed to 2,800′ and was at over 3,000′ by Teddington
So far so good. But what if there were an approaching plane in the way coming around on an IPA path? There is simply nowhere for the Go Around plane to go. The scenario might look like this – all shots below apart from the final one are from WebTrak and of the plane on its actual path at 16.45 on the 11th August 2019: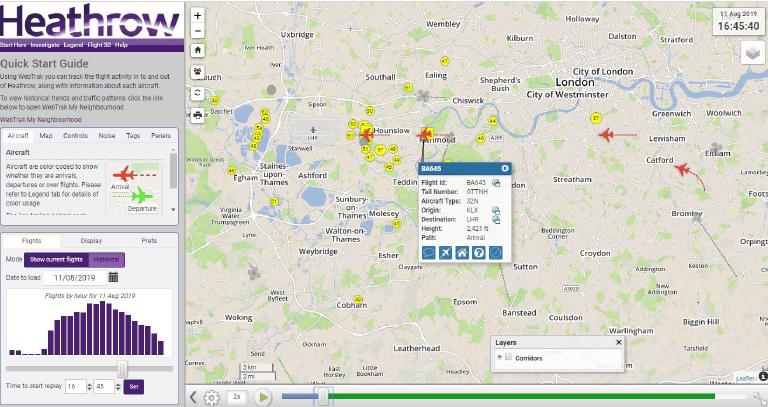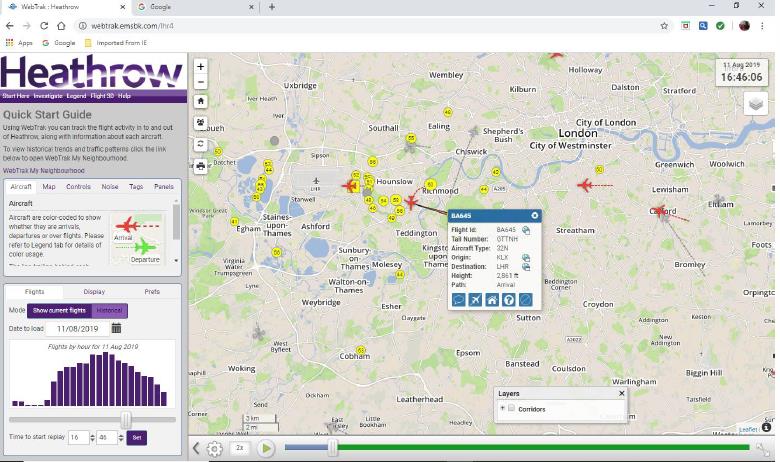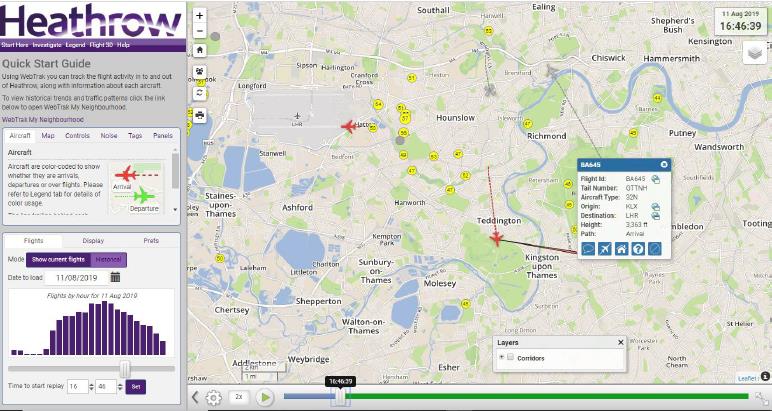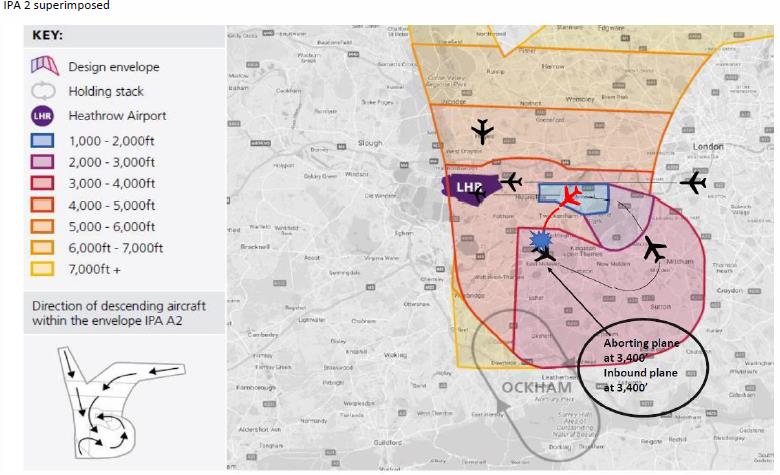 You can see that an approaching plane on the IPA path is directly in the way of the plane going around and there appears to be a substantial possibility of a mid-air collision over Teddington.
So far Heathrow and the CAA seem remarkably unconcerned (shades of Boeing where money is at stake perhaps?). We are pushing for an answer. The CAA have written saying that there is a further Stage 3 Consultation in April 2020 and remarkably have said of the WebTrak figures that "the altitude displayed is not necessarily indicative of an aircraft's height above ground. Therefore, online aircraft tracking applications should not be considered to be a reliable source of evidence of an aircraft's position". However, Heathrow and NLR, its peer reviewer, have both endorsed WebTrak as accurate! We responded to the CAA asking for further information and the CAA have written back. They say:
"with regard to your concerns over the safety of IPAs and their interface with "go-around" procedures. Please rest assured that if and when a finalised change proposal is received by the CAA the safety of all proposed procedures will be analysed by our expert procedure design staff and they would never approve an un-safe procedure"
Bearing in mind the Boeing 737 Max debacle with the FAA allowing self certification and our CAA accepting the FAA's rubber stamp, many may not be so reassured – particularly when there is no explanation given as to why our theory is incorrect
The areas most at risk, were IPAs ever to be adopted, appear to be:
For the IPA 1 formation Greenford and Wembley
For the IPA 2 formation Twickenham, Teddington and East Molesey
For the IPA 3 formation Englefield Green and Virginia Water
The USA is an interesting comparison. They have used a variant of this procedure for some time. It is called "Simultaneous Offset Instrument Approach" or "SOIA" for short. It is used where parallel runways are less than 3,000′ but more than 750′ apart. Another version is used where runways are more than 4,300′ but less than 9,000′ apart. Essentially planes approach at an offset angle, but have not done a near complete circle over the airport, thus shutting off the escape or "go around" route. In addition they must be over 3 miles apart or have at least a 1,000′ height difference.
An interesting example is Hartsfield Jackson Atlanta. Hartsfield Jackson has 5 runways with one off to one side and 2 each side of the central terminal. The two runways each side of the terminal are close together and so the airport employs the SOIA procedure. Up to 3 runways are used simultaneously for approaches and the approaches offset. They do NOT however go round in a complete circle but rather approach further apart and then turn 180⁰ into the final approach. The Flight Radar illustration below shows the approaches: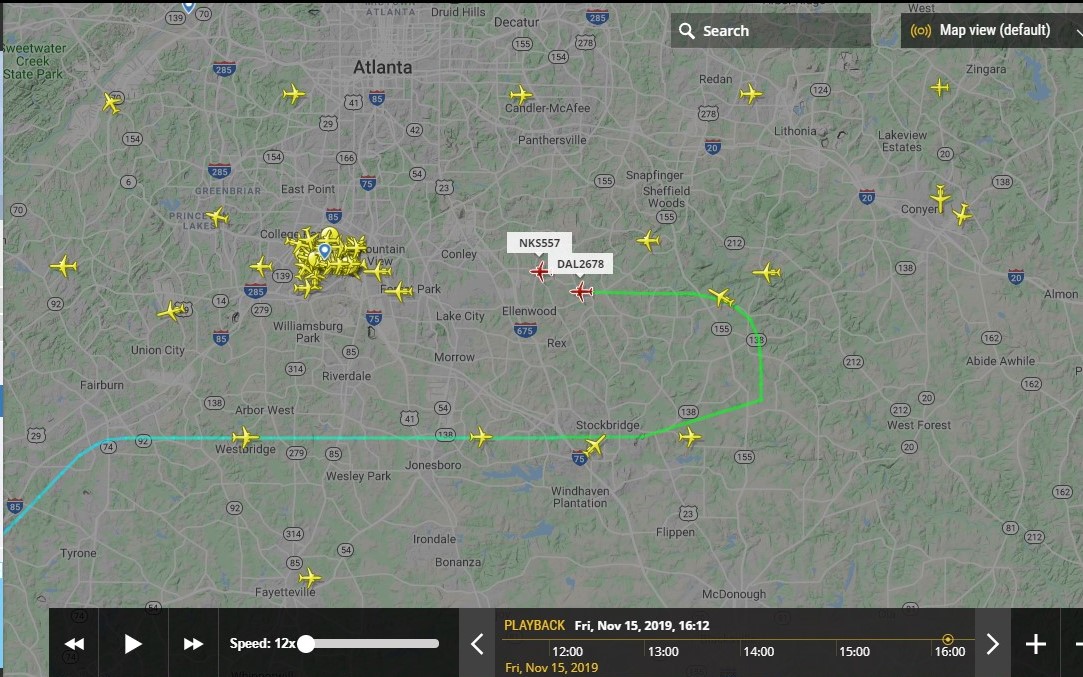 The approach route of the southern aircraft can be seen to be well away from the airport (quite unlike the proposals for Heathrow) and the heights are quite different. Flight DAL2678 is at some 2,775' whereas flight NK5557 (in front and flanked by two parallel approaching planes) is at 4,000' in order to preserve the 1,000′ difference. DAL2678 is some 15 kms from touchdown. While the residents of Atlanta may not be content with this formation, which is very intensive, it leaves far more room than does the Heathrow proposal – and consequently leaves much more room for crash avoidance in the case of a go around.
Why do Heathrow not propose this? Perhaps they cannot the use Atlanta model without interfering with Gatwick or Luton flights, and perhaps it is because with a distance of 3 miles apart, they cannot get the extra 25,000 flights they want. In addition, a 3 mile distance apart would still give at least 3 planes in the final approach circle of any of the IPA proposals, and thus still put a go around plane at risk of colliding with an approaching one. If there were to be no planes within the circle allowing any chance of obstructing a go around plane, the distance would have to be extended to over 20 kilometres or 16 miles according to the measurements given by Google maps.
As with Boeing, maybe it all comes down to money.